General Basement & Foundation Waterproofing Contractor NYC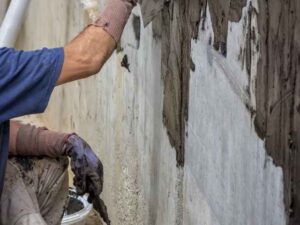 Water leak in a house can be a huge pain in the neck. And finding a reliable waterproofing contractor in New York City is a whole different story. On the one hand, a person suffering from the wet floor in the house and on the other hand fraudulent contractors can turn this situation into a nightmare. Therefore, it is our responsibility to save people from wasting the money and time on the frauds.
Before Concrete Repair NYC move further, we would like to tell you about us a little bit. We are Concrete Repair NYC and we have been working in the field for many years. Consequently, we are aware of all types of casualties people face while getting such job done.
Hence, Concrete Repair NYC are here for you to deliver the optimum quality of waterproofing contractors New York City. Now the question is, why should you believe us? After all, a fraud does not announce himself a fraud. We like to keep things transparent with our clients. So, here are some reasons which help you eliminate the doubt and kindle the faith between us.
Mark of Trust
Concrete Repair NYC does not promise you moon or stars. We believe in our skills and our dedication is unquestionable. We are insured, licensed and bonded.
Experience and Expertise
Concrete Repair NYC have an experience of 25 years in concrete repair and concrete repair service, Masonry contractors and masonry construction, brick masonry, home improvement, DOT Permits and pavers, sidewalk repair, backyard concrete install, remove concrete violation, custom landmark concrete install, historic building restoration and waterproofing work New York City.
Our References
Don't play blind! Concrete Repair NYC will not tell you to trust us impetuously. But know about our performance and way of working from our old and existing clients. You can find our clients reviews and feedbacks on our website. Get yourself satisfied, test us and then Trust Us!
Our Proposed Solutions
Concrete Repair New York City will suggest you the best solutions to overcome the leakage and waterproofing problems. It is up to you to take it up or not. As you know that we are a team of professionals working for 25 years in this field, we make sure you appreciate your decision of hiring us for the job.
The Result
He patchwork will not look alien! Don't think that the end result will look ugly with rest of the floor or roof. We use materials and paints that merge with your flooring. Anybody can hardly tell if there is any work done or not just by looking at it. We use only high-quality material and products. We carry out our work neatly and professionally.
Guarantee and Warranty
Concrete Repair NYC work itself is a guarantee! We are a licensed waterproofing-contractors New York City company. And as licensed, we proudly display our expertise and justify in all the aspects of our job. We deliver only high- quality results. Don't get locked up by local and unlicensed handymen offering such heavy duty service.
So, in short, Concrete Repair NYC is your spot if you want a perfect solution for your problems and issues. Now, stop leafing through the yellow pages and contact us! Our water proofing Service New York City will provide you with all the possible waterproofing solutions which are suitable for you.