Waterproofing Brick Pointing & Stucco Contractors Queens NY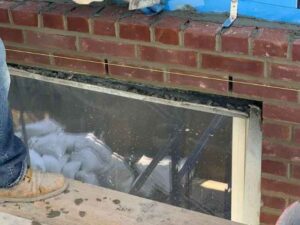 Brick Pointing is a very important feature for the construction of the building, as it helps to keep the water out of the building. If done correctly, it can enhance the value of the building.
Stucco is an option which is used to cover an area of deterioration where replacing all the bricks might not be possible always. Stucco comes in a variety of colors and can be laid over the existing masonry or brick. It provides a completely new architectural look at the same time adds insulation and protection to the existing surface.
Why choose us?
We have experienced staffs and workers who are dedicated to the work. We assure the best services for professional pointing and stucco repair.
With the unmatched level of 25 years quality and customer service , we are proud to say that out brick pointing and stucco repair services will exceed your expectations.
Brick pointing requires many years of experience and an exact eye for detail. We are focused and with an excellent vision for quality, our services have reached world class level of reputation.
Our crew is highly professional and courteous and can fulfill the individual requirements of each and every client. We guarantee that you would definitely be satisfied with the work that we do and would appreciate it.
Both residential and commercial customers are assisted in Queens NY.
Our team of experts at Concrete Repair NYC is masters in brick pointing and is also skilled in restoring the finish of stucco. They have the knowledge about the traditional and modern restoration techniques.
We use a variety of traditional and specialist mortars in different ranges of colors and finishes.
We are licensed and fully insured company.
NY Service Specialists
No matter if you are building a new building or fixing an old one, our team can help you with that. We meet the criteria for carrying out the work in an efficient and professional manner. Do make it a point to ask for credentials and call on referrals before you hire someone else apart from Concrete Repair NY.
The Local Experts in NYC
Our goal is to excel our customer expectations as we provide a very reasonable price for the best quality work without scarifying quality. You can rely on us as we guarantee 100% satisfaction from start to finish.
Our brick pointing services include:
Grinding out mortar joints
Replacement of mortars with correct mortar
Sealant for waterproofing
Colored mortars
Our Stucco repair services include:
Crack repair
Hole repair
Large area stucco repair
Miscellaneous services
Other services provided by us are concrete, painting, roofing, water proofing and much more. If you are looking for brick pointing and stucco services in Queens NY, then this is the best place to be.
Customer satisfaction is our top priority and we are committed to provide our clients high-quality construction and superior service. Get the job done right at the first time at an affordable price, without compromising on the quality. Contact us for a FREE estimate today!