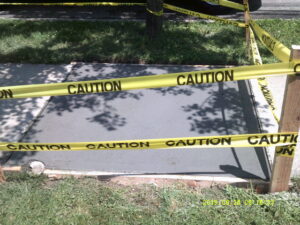 Damaged or broken sidewalks cause safety hazards and inconvenience to the public. It is highly dangerous to keep an unrepaired sidewalk open for public use. Searching for an efficient concrete sidewalk repair is a laborious task. Cause you are unaware about the best repair contractors in the streets of Brooklyn. No matter how small or big the task is, you will always need the best hands at work. Concrete Repair NYC has all the necessary tools and qualities to offer you premium service.
We must be conscious of the hazards before we look for a fix!
We must be aware of the hazards of sidewalks. Neglecting the repair work might have serious consequences which include:
The drainage system of the city often gets highly affected by a damaged sidewalk. Sidewalks can control the water flow in the drains.
Sidewalks are intended for the convenience of pedestrians. Damage can result in safety issues and in rare cases deaths too.
The road traffic increases when pedestrians are unable to access the sidewalks.
Often children find sidewalks as a good spot to play and hang around. Unsafe sidewalks will restrict their access.
Lastly, elderly and disabled people face the most significant problem.
Thus, we are aware of the importance of sidewalk repair in Brooklyn. It is a predominant factor that you hire a professional concrete sidewalk contractor Brooklyn. And perhaps your best alternative is us, Concrete Repair NYC.
We understand Brooklyn sidewalk repairs are important. Repairing of concrete sidewalks is an essential part of road safety measures. It requires expert Brooklyn sidewalk repairs to ensure the quality of the work. A buzzing city like Brooklyn must own functional sidewalks.
It will aid in the smooth running of the traffic flow.
Reduce road accidents and crashes.
Provides an emergency stoppage for broken-down vehicles.
Enhances the roadway drainage system.
Acts as a stage for various road performances, crucial meetings, and functions.
Acts as a dump area for snow during heavy winters.
Acts as safe children play area.
Hangout grounds for elderly people, neighbors, and friends.
The sidewalk installation and repair Brooklyn demands fast, easy, and reputable contractors. Our team of the contractor will ensure superior quality work at the most affordable price.
Why will you choose to hire us?
While opting for repair work of the concrete sidewalk you must undergo extensive research about the best sidewalk contractor Brooklyn. As an expert professional sidewalk contractor, we use superior quality resources. This will aid in the longevity of the concrete work. Also, you will be assured that your work will be done right. You must rely on Concrete Repair NYC for we commit to the best service.
We will provide a detailed quotation.
We possess several years of construction experience.
We are dedicated to providing you with top-notch service quality.
Our experts have adequate knowledge about the type and quality of the materials used for sidewalk repair.
A 24×7 customer support service is always available to you.
Our team of professionals is trained in handling various tools and machines.
Violation Removal Brooklyn, NY
An old or damaged sidewalk might attract violation notice from the Department of Transportation (DOT). This mainly occurs if your walkway or sidewalk possesses any threat to the general public.
If you receive a DOT sidewalk violation notice, you are entitled to repair the sidewalk within 45 days. Before it gets any worse, you must hire Concrete Repair NYC as we will get you through Brooklyn sidewalk violation repair. We have got the best fix for violation removal Brooklyn, NY.