All Kind Of Window Waterproofing Services in Bronx, Brooklyn, Queens NY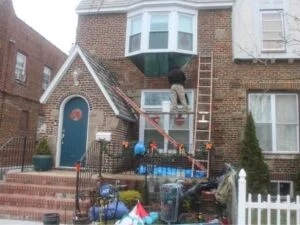 No matter what is the season, leaking windows can lead to major structural and aesthetic damage to your home. Hence, it is very important to address any leak issues as soon as you notice it. This can help you reduce the risk of costly repairs at a later stage.|
The best window repair, window caulking and waterproofing company in New York City.
Contact Concrete Repair NYC for window leak, window repair and installation and window waterproofing services. You can be rest assured that you would receive the highest level of professionalism, service and experience. We offer quick and affordable window caulking repair, leak repair, installation or replacement and waterproofing services in New York City.
Why do windows leak?
Windows leak is a common problem these days. It can happen due to extreme temperatures, weather conditions and also due to the building settling. All these damage the window frames. Design-Due to the lack of overhangs to drain water off the roof and to protect the rain water from entering through the windows. Ensure that the fascia board is angled outward, so that the water is directed away from the unit.
Maintenance
Missing and broken caulking at the window flange and seams can lead to leaks. If the glass seal is broken it will allow moisture to get between the windows.
Installation
Water infiltration can occur if flashing is not properly installed or if there are breaks in the flashing. Specially designed window flashing should be used around the windows to prevent such leaks.
Professional solutions for waterproofing and leaking windows
Leak can occur through a variety of ways. Our experts at Concrete Repair NYC can prevent these issues. Call us today and get a FREE estimate on leaky window repair services in NYC.
Windows Caulking
If you want to improve the energy efficiency of your home, windows caulking is one of the best and the easiest options for you. We provide regular checking and diagnosis. If there is any major heat or cooling loss, then it is recommended to bring in a professional. Our team of experts has got the perfect technology and the right equipment to detect leaks and can make your home weather proofed in a fraction of time. Send us a quick message and we will provide you with an accurate quote if you are looking for windows waterproofing company in New York City.
Why choose us?
Our staffs specialize in different types of cases and can give you the best advice. We feel our job is not complete unless our customers are completely satisfied with our work and the level of service.
We have 25 years of experience in residential and commercial window waterproofing services in New York City.Our team of professionals will
ensure that our clients are provided superior results along with a smooth process.
We are insured, licensed and bonded.
We guarantee highest quality workmanship and expertise to complete all your window needs in a quick and effective way. Choose Ray Sands Glass for the most trusted window repair and window replacement in Rochester, NY.
Choose Concrete Repair NYC for the most trusted window repair and installation services in Queens, NYC. We look forward to working with you for all your window needs!