Walkway Contractor NYC, Queens, Brooklyn, Bronx NYC
Concrete Repairs NYC provides paver installation contractor Queens NY services with high quality and professionalism. We are using the latest technology equipment in the process of making asphalt & masonry paving which include installation of sidewalk concrete, backyard concrete, driveway concrete, etc. Customers can query us for our work details and for a free estimate. Our company serves the best quality materials, whether it is for a single project or multiple projects. The best part is, for 100% customer satisfaction we offer Paved Contractor NY service at economical cost.
Paved Concrete Repair Process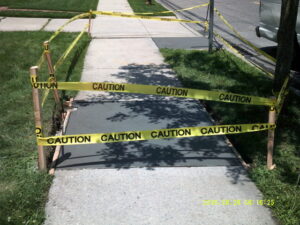 Our company uses these steps for the paving concrete installation with the latest technology
Old Paved Concrete Removal

This is the first step to remove paved concrete. We have to remove all the existing surface for renewal. The whole process is undertaken by using heavy machinery, including front loader and back-loaders example small bobcats, forklifts and dump trucks.
Our paver installation contractor Queens NY company recycles the old asphalt and its waste into a strong and usable asphalt by removing the debris out of old paved concretes. This process not only saves money it also an environment friendly.
Sloping and Grading
Sloping and grading are crucial factors which affect the overall durability of paved concrete structure. Our laser guided devices assists us while selecting the slope. With the help of this precise and accurate measure we make sure that the water run off quickly and appropriately.
Damage including path holes, cracks and heaving are caused by water drainage this is why we need to stop water drainage.
Make the Sub Base
Sub Base is the important part of your new asphalt surface.
The sub base provides stability to the surface of the newly paved concrete.
Winter damage through freezing and thawing is reduced by sub base.
For the durability of the sub base, professionals need to take care of its base thickness, base stability and compaction because this is the important step.
Proof Roll and Sub Base Repair
Proof roll process is prepared to support new asphalt after the sub base is fully graded and compacted. For checking the sub base is properly supported or not, a quad axle truck loaded with approx. 80000 pounds weight rolls over the paved concrete row by a row over the entire surface. If there is no soft area found it means the entire sub base is supported.
Binder Mixture
After sub base is ready with all repairing is done, this is the time to add the binder.
Binder is a type of large layer balanced mixed with oil for making it strong and durable for any new asphalt surface.
Laid New Asphalt Surface
After adding all the supportive structures to the newly paved asphalt surface which is made up of a balanced mixture of combine sand and oil. This creates jet black asphalt that is shiny attractive and finished surface. A new top layer of new asphalt increases the smoothness for clean and smooth ride.
Butt Joints
Paved Contractor Queens NY contractor is specialized in installing asphalt surface to connect existing driveways, highways and parking area.
New concrete and asphalt meet old asphalt is called Butt Joints.
The team needs special attention to the water drainage and grading system for the transitional areas.
Our Butt joint professionals ensure that drivers and pedestrians don't notice the difference in the repaired surfaces.
Final Roll
On the smooth and clean asphalt surface, our professional Paved Contractor NY gives the final touch with the following processes.
Roller truck is used for making the surface more compacted and smoothened for the newly paved asphalt surface.
To ensure that there is no stone and small bumps are left for the new and smooth asphalt surface the roller truck is used as well.
Concrete Repair NYC professional contractor following these steps for making new paver installation contractor NY. We truly believe in teamwork and dedication. Our job is our passion. Therefore, we leave no stone unturned in order to deliver our customers the best service. Get a free quote now and let's talk about your project.