The No.1 Commercial Concrete Contractor In NYC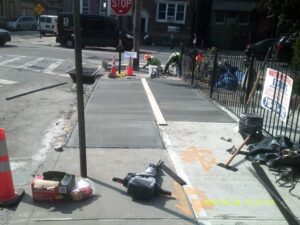 Does your property require a repairing? Do you want a hassle-free waterproofing facility in your premises? Then select Concrete Repair NYC and witness your constructional complications to be resolved easily. We charge a nominal fee for all kinds of our expertise and unparalleled services. Concrete Repair NYC is indisputably the finest commercial concrete sidewalk contractor in the Bronx for its dedication and commitment. Not only do we simply repair the pavements but also educate people about the necessity of having a secure sidewalk too. We offer to you worry less professional assistance to you. From pre-inspection, proper implementation, and post-inspection, we handle all. All you do is relax. Just contact us and we offer a swift response to you and rest assured that all your sidewalk-related problems will be smoothly solved.
Why it's prudent to select Concrete Repair NYC?
We are certified by renowned institutions.
We offer free estimations.
We are insured and licensed.
Guaranteed exceptional services at the most reasonable price.
Being the most superlative commercial concrete contractor in NYC, we offer customized but admirable construction services that give your property longevity and immense improvement. For more than 25 years, Concrete Repair NYC has been striving to give your property an exquisite look along with the sustainability. With skilled and insightful staff, we manage and handle all projects whether massive or tiny complications with reliability, efficiency, and effectively. Also, our company utilizes the premium tools and techniques that enable your property to stand tall and elegant.
Concrete Repair NYC being the ideal commercial concrete walkway contractor in Queens, offer our clients accurate and secure construction facilities. With our first-class services you can have the following advantages:
Convenient and safety treading on the walkways by the pedestrians.
Both elderly and children can move about or play on these walkways sans worries of injuries.
No complicated drainage system as the walkways established by us will never punctuate its working.
Road traffic will decrease significantly as the pedestrians will love to tread on the walkways.
Why you choose us for Commercial Concrete Repair NYC Job
If you are wondering about where to seek for the best Brooklyn commercial concrete contractor, then contact us at once. And let Concrete Repair NYC manage your property complications with finesse and ease. Concrete Repair NYC values openness and diversity. We are constantly developing and updating our services too. All the aforementioned qualities surely enable us to deliver outstanding and world-class results. Concrete Repair NYC only priorities safety and client satisfaction. Unquestionably, your journey towards a sustainable and beautiful life starts with us. Then contact us straight away.
We are constructing unparalleled properties for the previous 25 years and our unwavering assistance and dedication have made Concrete Repair NYC one of the most desirable commercial contractors in New York. We tackle effectively all the complexities and challenges that all the projects bring. As we are zealous and passionate about our work, we not only repair the existing flaws or defects of your abode but also inspect and improve all the distinct imperfections and deficient areas that require to be catered. This ensures that your property will enjoy sustenance and unparalleled beauty.
We are the company that is persistently endeavouring to offer our customers innovative solutions that not only adds durability to your property but also cost-effective solutions so that you get what you desire, a luxurious living but sans excessive cost. We understand your viewpoints and offer transparent communication. Proper planning and execution which gives you exceptional and on-time results. If you want aesthetically appealing abode which is simultaneously durable and safe, then right away contact Concrete Repair NYC and simply relax while we make your property mesmerizing and long-lasting.