Driveway Replacement, Repair And Paving Contractors NYC
We, at Concrete Repair NYC, provide general concrete construction services to the commercial and residential custom landmarks. We are the leading driveway contractor in NYC. We have been in the concrete business for the past 25 years. You can call us for any kind of concrete construction or repair services, including driveways, pavements and sidewalks, to name a few.
Enhance the look of your property with our concrete driveways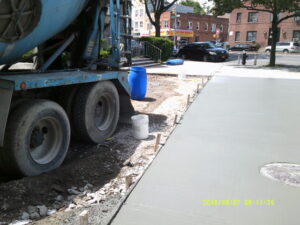 Undoubtedly, a beautiful driveway will make a significant improvement to your property. If you are looking for general concrete contractor in NYC, you can vouch for our services and rely on us for your concrete need. We specialize in building high quality driveways. Out team of professional can also turn your dull drive space into a beautiful one that will look good for years to come.
We follow the rules and instructions
The good news is, we work according the guidelines of the Department of Transportation and Department of Building, NYC. We do construction work as per the rules and strictly follow guidelines, which are necessary to avoid any case of accidents.
Our USP
What we offer to our customers, matters to us the most. For us, the quality of the work holds utmost superiority. Our focus is to provide our customers with:
Quality workmanship

Follow the installation procedure step by step

Driveway maintenance and repair

Desired end result
Our services are Inexpensive and durable
Apart from that, we also provide all kinds of concrete contractor services in NYC. Concrete is highly durable material for driveways and it last for years. In addition to that, it requires less maintenance and repair, and is also, inexpensive as compared to other options such as gravel.
We have a dedicated team of Concrete sidewalk repair contractors
We do not only have a team of driveway contractors, but we have concrete sidewalk contractors as well. Whether you need NYC sidewalk repair or are looking for 'sidewalk contractor near me', we are there to fulfill your requirement. We provide top-notch services to those looking for t sidewalk contractor New York City.
Our dedicated team also provides sidewalk repair services in Brooklyn NY and sidewalk repair services in Bronx NY. With us, you can also find concrete sidewalk contractor in Queens NY. Our experienced and certified workers are known to provide you with the high-end services and result.
We use State-of-art technology
We use the state-of-art technology to give you the desired results. Be it your driveway, pavement, sidewalk installation, repair or maintenance, you will always be satisfied with the end result.
Adding more to our experience, we are:
Certified contractors
Licensed
Fully insured
Use high-quality materials
Experienced in the field
Hold expertise
Use latest technology
We assure you of high quality work and the projects we undertake are of top class. We will not let you down and you will get what you desire. Be it your residential property or commercial property, we will accommodate all your construction and repair requirements. All you need to do is to hire us for your concrete driveways contract.
You can contact us for your concrete driveways contractor needs in NYC. Once you hire us, your job is done. We will look after the project, thereafter, and work from planning to execution of the driveways to provide you with the desired result. After the completion of the task, you will definitely be delighted to see the top class end result.