Driveway Paving Contractors In NY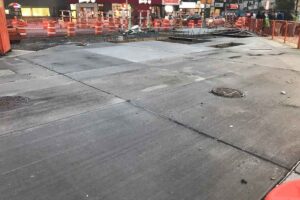 At Concrete Repair NYC, our reputation and quality of work speak for us. We always believe in the fact that customers are our number one priority. We guarantee that all our driveway paver installation services are of the highest standards and satisfy all the expectations of the clients.
When an inevitable issue arises, our team of professionals is fully dedicated to resolve that up to the satisfaction level of the customers. At Concrete Repair NYC, we do every driveway paving stone repairing work like our own property. We offer services for every type of driveways starting from commercial and private roads, parking lots, and many more. We take pride in paving the surfaces that enhance the aesthetics of a property and extend the life of a pavement.
Services We offer:
We are one of the top driveway paving contractors that handles all kinds of driveway paving and repairing works for both commercial and private properties. We take care of the roads, driveways, parking lots, drain and dry well repair, pothole repair, stone driveways, and tennis and basketball courts. Thus if you need reliable and trustworthy driveway pavers in NY, then we are always here for you. The services provided by are as follows:
Hot patching

Grading or Excavating

Sealcoating

Resurfacing and overlays

New paving installation and Belgian blocks

Maintenance and repair of the pavement
Why are we the Best?
Concrete Repair NYC always strives for perfection in all the projects accomplished and focuses to exceed the client's expectations. To do this we only hire the best, qualified, skilled and experienced specialists who can manage any remodeling, paving or repairing concrete work within the given time frame in an efficient way. Thus wherever you are searching for the top driveway stone pavers, then give us a call at +1 (914) 505-7775 and our experts will handle the rest!
How are we Different from the Other Companies?
The major difference between Construction Repair NYC and other driveway pavers companies is we are certified, licensed and insured from the renowned institutions. We are GAF and OSHA certified organization that offers quality work at reasonable driveway paver's costs. Due to our excellence in customer satisfaction, we also emerged as winners in "The Talk of the Town" awards in the year 2014.
All our technicians and engineers implement top grade and the latest equipment, tools, gears, and materials that help us to complete even the most challenging projects with complete ease. On our official website, you can also see the samples of our previous work done and testimonials of our clients.
Right now we are only serving in the Bronx, Queens, and Brooklyn areas of New York City.
So do not wait anymore and book an appointment with us today!
Why choose us?
Our staffs specialize in different types of cases and can give you the best advice. We feel our job is not complete unless our customers are completely satisfied with our work and the level of service.
We have 25 years of experience in residential and commercial window waterproofing services in New York City.Our team of professionals will
ensure that our clients are provided superior results along with a smooth process.
We are insured, licensed and bonded.
We guarantee highest quality workmanship and expertise to complete all your window needs in a quick and effective way. Choose Ray Sands Glass for the most trusted window repair and window replacement in Rochester, NY.
Choose Concrete Repair NYC for the most trusted window repair and installation services in Queens, NYC. We look forward to working with you for all your window needs!