Complete Basement & Exterior Waterproofing, Queens NYC
What is Foundation Waterproofing and Why is it Important?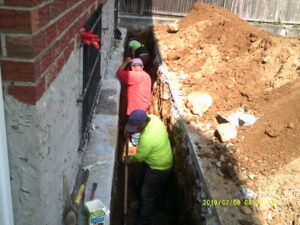 Foundation waterproofing is preventing water penetration through the foundation of a home. Water penetration can be through the basement, garage floor and even under the slab. Sometimes these are not visible to the eye and can lead to wet damp basements and crawl spaces that can breed mold. Without foundation waterproofing, water can seep through the foundation wall and can even cause a crack in the foundation. Hence, it is very important to regularly test your home for any foundation issue through experts.
Benefits of Foundation Waterproofing
Foundation waterproofing service protects the structure of the home. Contact Concrete Repair NYC to find out more about the services in NYC.
Concrete Repair NYC foundation waterproofing services offer a variety of benefits, such as:
Protection
Water accumulation in and around the homes can lead to damage, cracked walls and can even ruin windows. Our waterproofing solutions will protect against these damages.
Savings
Foundation waterproofing is an investment, but it can save your money against flood remediation services which costs more.
Mold Prevention
Excess moisture can promote mold growth and can damage homes and impact the air quality inside the homes. Foundation waterproofing can help prevent the basement to be dry and clean.
Foundation Waterproofing in NYC
Are you looking for the best foundation waterproofing services in NYC? Concrete Repair NYC is ready to help you with it. We understand that every home is different and each one requires a different solution. Our expert team at Concrete Repair NYC will make sure your home is protected!
Let us waterproof your foundation
Concrete Repair NYC is dedicated to achieve complete customer satisfaction.
Our foundation waterproofing experts have the experience of 25 years to diagnose and install the long-term solutions to keep your foundation solid, basement dry and crawl space mold free.
Our waterproofing solutions will eliminate the risk of leaks and damage to your interior areas.
We will ensure that your landscape is as beautiful and functional like before, by removing areas where water accumulation occurs.
We offer a variety of foundation waterproofing solutions.
Professional Waterproofing Solutions
We offer foundation waterproofing services to control the moisture and also to prevent erosion. Our dedicated staff will ensure that our services are professional, reliable and affordable too. Our expert service is backed up by customer satisfaction and work guarantee. The budget we provide is reasonable and will not hurt your pocket much.
Licensed, Insured and Certified
The best thing about hiring our team is that our team members have extensive certifications and licenses. Quality and efficiency are assured when you work with Concrete Repair NYC. Since we are fully insured, you do not have to worry about our services.
Kind and Courteous Staff
All our staff members are kind, professional and courteous. Our aim is to become a company that customers would love to work with. We are on the most referred foundation waterproofing repair companies in Queens NY.
For more information about the foundation waterproofing method solutions, call us today and get a FREE estimate!