Custom Stone Repair NYC - Stone Installation Queens, Bronx, Brooklyn NYC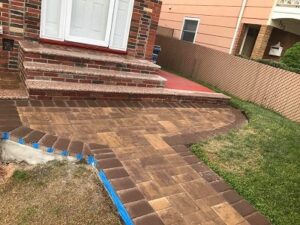 Keeping the property in a good shape is essential at all times. Hence, concrete contractor is always in demand to fulfill such needs. In addition to that, even in violation removal NYC, you will need an experienced concrete constructor. It is mandatory for the property owner to keep the violation record up to date as per the government rules. For this you can always rely on us, we have been in the industry for last 25 years and are the leading concrete contractors in New York City. Get various home remodeling services, stones provide natural beauty, and durability to any property. Whether you are looking for home remodeling service, block retaining wall design, installing retaining wall blocks or waterproofing contractor in Queens NY.
We offer free service estimate to our clients. Avail various stone installation services from us. We are general stone contractor in Brooklyn NY and offer various types of stone installation services. We are a team of architects, designers, artisan, and workers, who meticulously install stones in your property to give it a more enhanced look and appearance. Our home remodeling service includes installation service of different kinds of stones including:
Natural stone
Custom stone
Cultured stone
Commercial Exterior Renovation NYC
Commercial Contractor NYC
Commercial Waterproofing Contractor NYC
Veneer
Marble
Quality work and installation: We only use premium quality stones. Our architects are specialized in installing various types of stones. Our workmanship is highly-qualified and educated to undertake masonry projects and landscaping projects for your property as well. Apart from this, we are trustworthy concrete contractors, NY. We offer a variety of stonework remodeling services. Our experts have artistry to transform your ideals into reality. If you are looking for quality output and a proper finish on your property- hire us!
Focus on aesthetics and quality
We work on our projects from the scratch. We start right from planning to implementation, be it repair works or installation. Our first priority is to provide our customers with top quality result and give shape to their vision. We work hard to make our customers' property look beautiful and aesthetically pleasing. Our goal is to satisfy our customers. We are not only licensed but also insured which ensures that our customers do not face any difficulty, in case of any accident or mishap. Miscellaneous services In addition to that, we also offer other home remodeling services including waterproofing contractor NYC, skylight repair (Brooklyn, NY), parking lot concrete repair NY, waterproofing contractors (Queens, NY), demolition concrete contractor (Queens, NY), NYC dot sidewalk violation, and other such services.
Precision is what we look for Hence, if you reach out to us for concrete construction or repair services; you are bound to avail top-notch services from our team. We promise, you will get what you are looking for and you will be happy with our services. Our services are cost-effective and you get free service estimate from us, as well. Once we start the project, we look forward to complete it with precision.